Here at Whitewater Orthodontic Studios, it's important to us that our patients feel informed and empowered from their first visit with us to the last. We know that choosing to improve your oral health with orthodontic treatment is a big decision, and since you only get one smile, you shouldn't trust it to anyone other than an experienced orthodontist! But what if you're not sure how to go about finding one? We made a list of questions to ask when choosing an orthodontist to help you start your orthodontic journey with an informed decision.  
Let's take a closer look at what you should know before committing to a particular practice!
Is the doctor a trained orthodontic specialist?
This question may be so straightforward that some prospective patients forget to ask it when the time comes. But, finding out if the dental professional you're considering for your orthodontic treatment is an orthodontic specialist is actually the most crucial question you can ask. That's because some general dentists are also able to provide orthodontic treatment, such as braces or clear aligner therapy, even though they don't specialize in it.
A general dentist will typically offer standard dental services such as crowns, fillings, dentures, and occasional orthodontic treatment like Invisalign. An orthodontist, on the other hand, spends their days providing only orthodontic services.
This distinction matters a great deal. Imagine for a moment that you or your child required specialized treatment or surgery. Would you feel comfortable with your family physician handling your case, or would you prefer a dedicated specialist?
Orthodontists are essentially dentists who also have several years of additional specialized training and experience. This means an orthodontist has:
Studied the growth and maturation of the teeth and jaw
Developed diagnostic skills
Learned biomechanical techniques to properly move teeth
Been introduced to numerous case studies
Learned how to change the development of the dental alveolar complex and facial growth of younger patients
To give you an idea of how competitive orthodontic residency programs are, they only accept the top students in any dental school graduating class! These orthodontic programs last around 2-3 years and include full-time training that focuses on correcting orthodontic issues with braces and aligners. While there are exceptions to every rule, most dentists won't possess this same exhaustive orthodontic training and experience level.
Dr. Leavitt received an academic scholarship to Brigham Young University, graduating with a degree in Zoology. He then attended the University of Washington School of Dentistry, graduating with honors and receiving his Doctor of Dental Science (DDS degree).
From there, Dr. Leavitt spent two additional years at the University of Washington, receiving specialized training in orthodontics. The program consisted of education in orofacial biology, anatomy, embryology, and craniofacial growth and anomalies. It also included clinical training in all areas of orthodontic theory and practice. Dr. Leavitt also worked to complete a major research project and master's thesis at this time and received a Master of Science in Dentistry along with the Certificate of Orthodontics.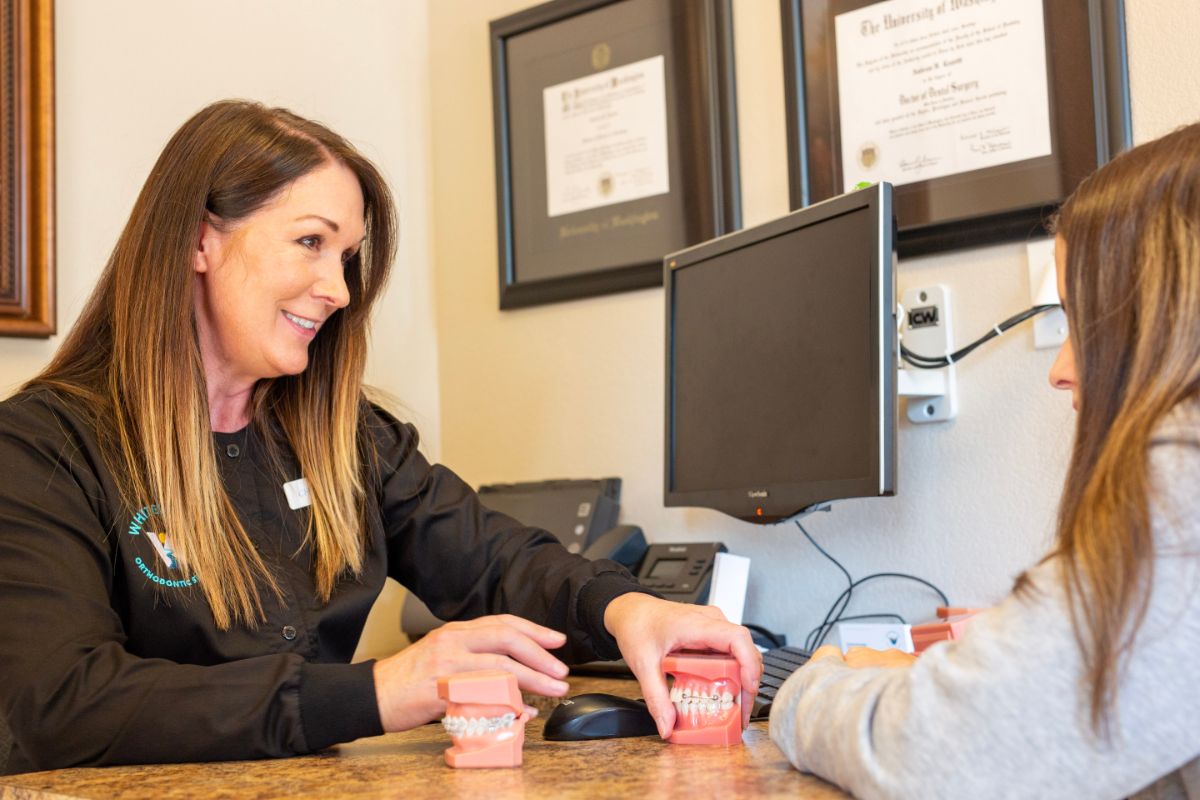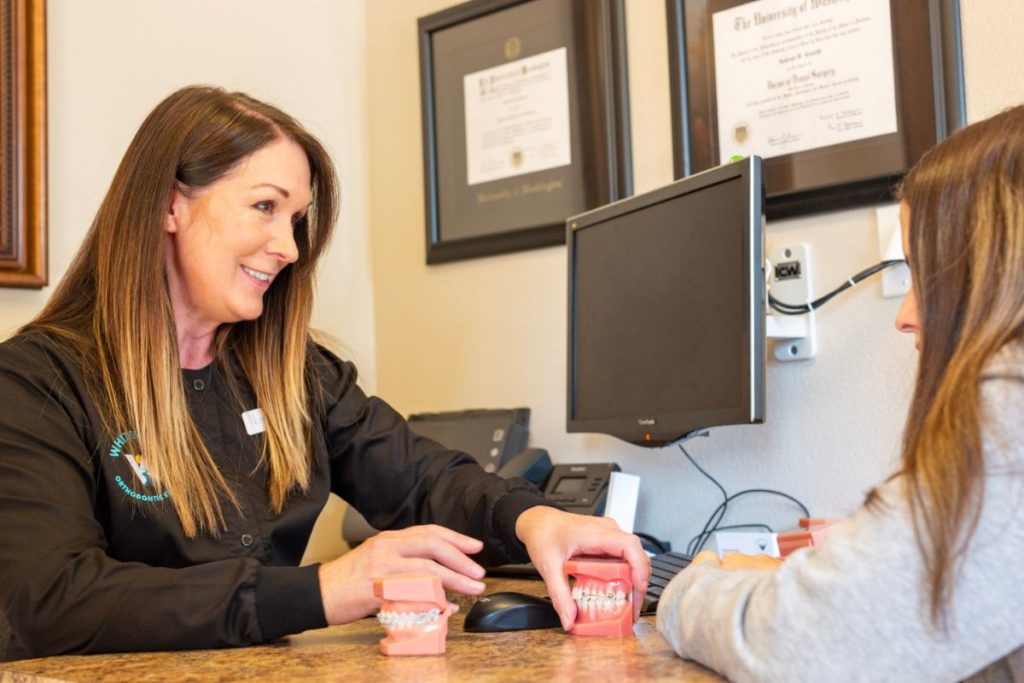 What treatment options does the orthodontist offer?
Whitewater Orthodontic Studios has a wide variety of treatment options available to patients of all ages in Lacey, Lakewood, Yelm, and the surrounding communities. 
Metal braces
Traditional metal braces are still the most widely used orthodontic appliance, and have come a long way in recent years! They are typically made of a mix of high-grade stainless steel, nickel, and other durable metals. Bands wrap around the back molars, and Dr. Leavitt will cement smaller metal brackets to the front surfaces of the other teeth. A thin, springy metal wire runs through the brackets, which may be fixed to the brackets by flexible elastics, metal ties, or another clasp. All of these components come together to gently guide your teeth into the desired positions over time.
Clear braces
Sometimes called ceramic braces, these function in the same way metal braces do, but are made of transparent materials instead of stainless steel. Because they are less visible than traditional braces, they're popular with older teens and adult patients who may be more image-conscious. They are larger and more brittle than their metal counterparts, so we tend to use them on the upper front teeth more often than the lower teeth. 
Invisalign
The Invisalign system uses a series of customized aligners that are nearly invisible and completely removable. Unlike traditional braces, Invisalign doesn't need brackets and wires to move your teeth. You'll get a level of freedom and flexibility that conventional braces just can't compete with. Designed to fit snugly but comfortably over your teeth, Invisalign provides a more subtle and comfortable orthodontic experience. When worn the recommended 20-22 hours per day, and changed weekly with the next in the set, these aligners will gradually move your teeth into the desired positions.
Invisalign Teen
Although Invisalign and Invisalign Teen work the same way in the underlying technology, there are a few special features that are specific to the Invisalign Teen system, including the following:
Compliance indicators
Invisalign Teen has a compliance indicator incorporated into each aligner to help teens stick to their treatment plan. This will fade from blue to clear as it is used, letting parents, teens, and orthodontists know that the patient is wearing their aligners correctly.
Eruption tabs
This feature accommodates the growth of the second molars in young adults, helping to keep space open for unerupted teeth and making it possible to treat a broader range of conditions with Invisalign.
Replacement aligners
We all lose or damage things from time to time. While we encourage all of our Invisalign patients to be careful with their aligners, teens don't need to worry about misplacing or losing one. Invisalign Teen anticipates it happening, and provides up to six replacement aligners at no charge, just in case!
How frequent are follow-up visits with the orthodontist?
Whatever treatment option you choose with Dr. Leavitt, you can rest assured he will tailor the frequency of those visits to your particular treatment in our Lacey, Lakewood, or Yelm, WA office. Most patients will come for adjustment appointments every 4-8 weeks, but sometimes even longer. As a father of 7, Dr. Leavitt understands busy families and always tries to respect your time by making sure each visit is necessary.
Dr. Leavitt will use these appointments to replace worn out rubber bands, check your treatment progress, and make any necessary adjustments, so your teeth keep moving in the right direction.
Invisalign patients may be seen slightly less frequently, but these appointments are still an essential part of the orthodontic process, so you don't want to miss them!
While treatment time will always vary from case to case, the average treatment length is 14-24 months. We know how busy today's families are, so we never overbook patients and always aim to see you at your scheduled time.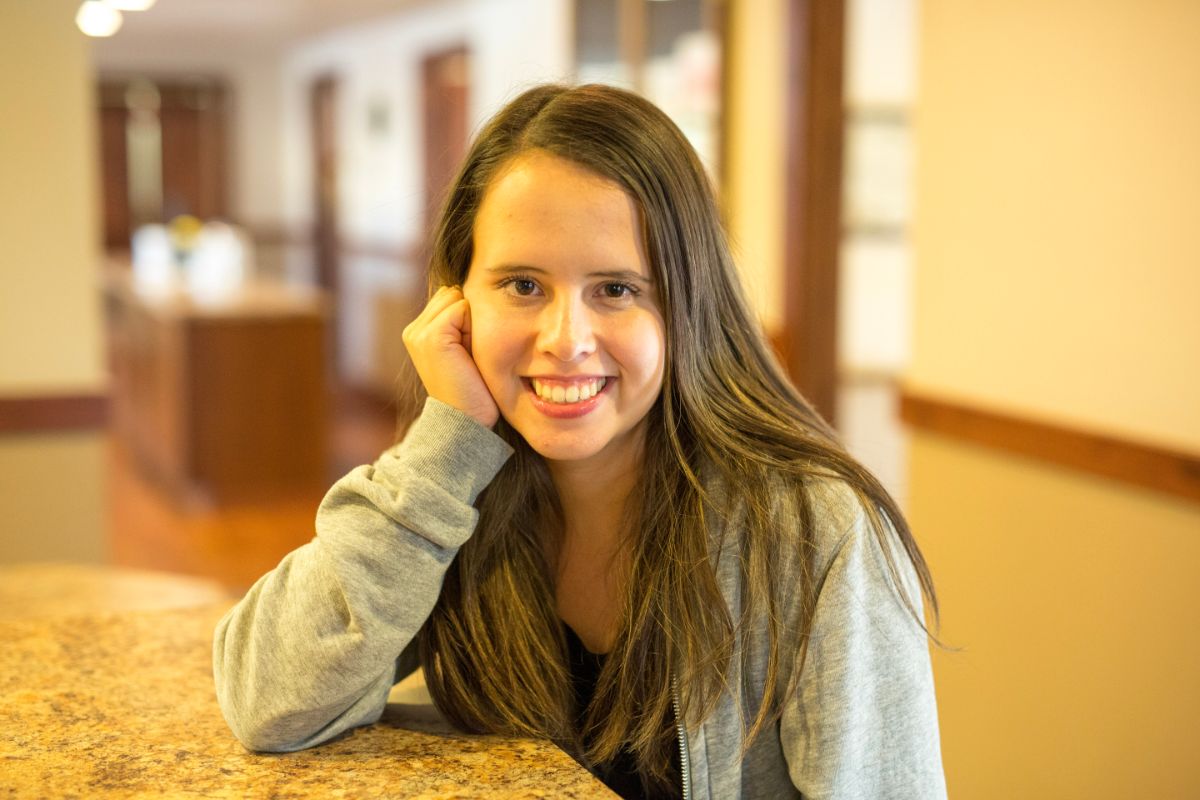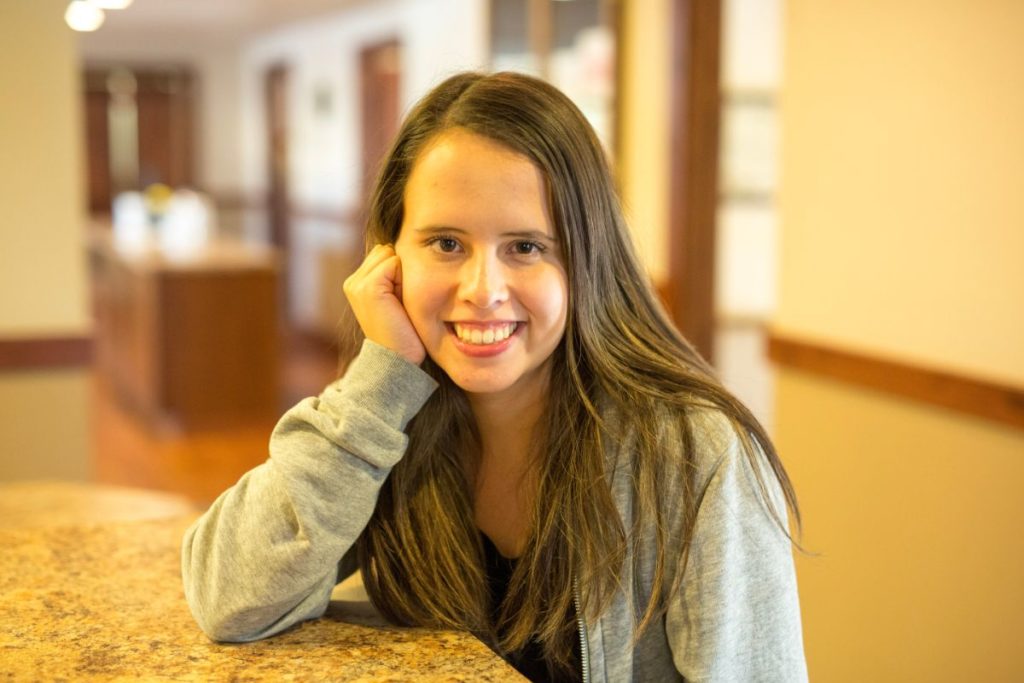 Don't trust your smile to anything less than the best!
If you're looking for the best in high-quality orthodontic care, Dr. Leavitt has the education, skills, and expertise necessary to create a beautiful smile with long-lasting results. If you're ready to take the first step in your orthodontic journey, we would love to meet you and talk more about how we can help you achieve the smile you desire. There's never been a better time to take the first step towards improved oral health, so get in touch today to schedule your FREE consultation with Whitewater Orthodontic Studios!