01 -
Feeling Good & Looking Good
At Whitewater Orthodontic Studios, we believe that the essence of good health means helping people—especially children—feel good about themselves, about us, and about others.
Orthodontic treatment is more than just straightening teeth. Orthodontics builds self-esteem and self-confidence and will nurture this kind of good health.
1 -
Expert Training
Orthodontists are dentists first. Out of 100 dental school graduates, on average, only six go on to specialize in orthodontics. Dr. Leavitt took on this challenge and journey to become an orthodontist.
To practice orthodontics, Dr. Leavitt spent 11 years in training (four years of college, four years of dental school, and three years of orthodontics residency).
He spent three years learning the skills he needed to manage tooth movement and to guide facial development.
Dr. Leavitt attends many continuing education classes and seminars. He's a member of three local and regional study clubs and far exceeds state continuing education requirements. This means you know you'll get the best orthodontic care around Parkland or Yelm.
02 -
Personalized Service
From the moment you contact our office to your final retainer check appointment, our goal at Whitewater Orthodontic Studios, is your complete satisfaction.
We are known for our incredible customer service. We are proud of our warm, welcoming atmosphere where patients and their families are treated with the best care. We offer phone, email, and even text message reminders about your appointments!
Dr. Leavitt will personally diagnose each case and see every patient at each of their regular visits. Our goal at Whitewater Orthodontic Studios is not just to give you the smile of your dreams. We want you to leave our office after every appointment knowing that you got the best possible care.
03 -
Comfortable Treatments
At Whitewater Orthodontic Studios we take pride in making the process of straightening your teeth as comfortable as possible.
We're extremely concerned about the overall health of your teeth while in braces. We work closely with your general dentist and all other specialists involved in caring for your teeth.
Digital imaging with both photos and X-rays makes us more efficient. We able to communicate more easily with your general dentist and gives you less exposure to radiation.
Gone are the days of painful headgear, clunky bands on every tooth, and overly tight stainless steel wires. Today's orthodontic treatment is much more comfortable than it used to be. We can contribute this to shape-memory NiTi wires.
With the same technology that NASA uses, NiTi wires exert a continuous force against the teeth to move them in the right direction. This gets rid of the need for wire tightening. This means you spend less time in braces, and the time you do spend is more comfortable.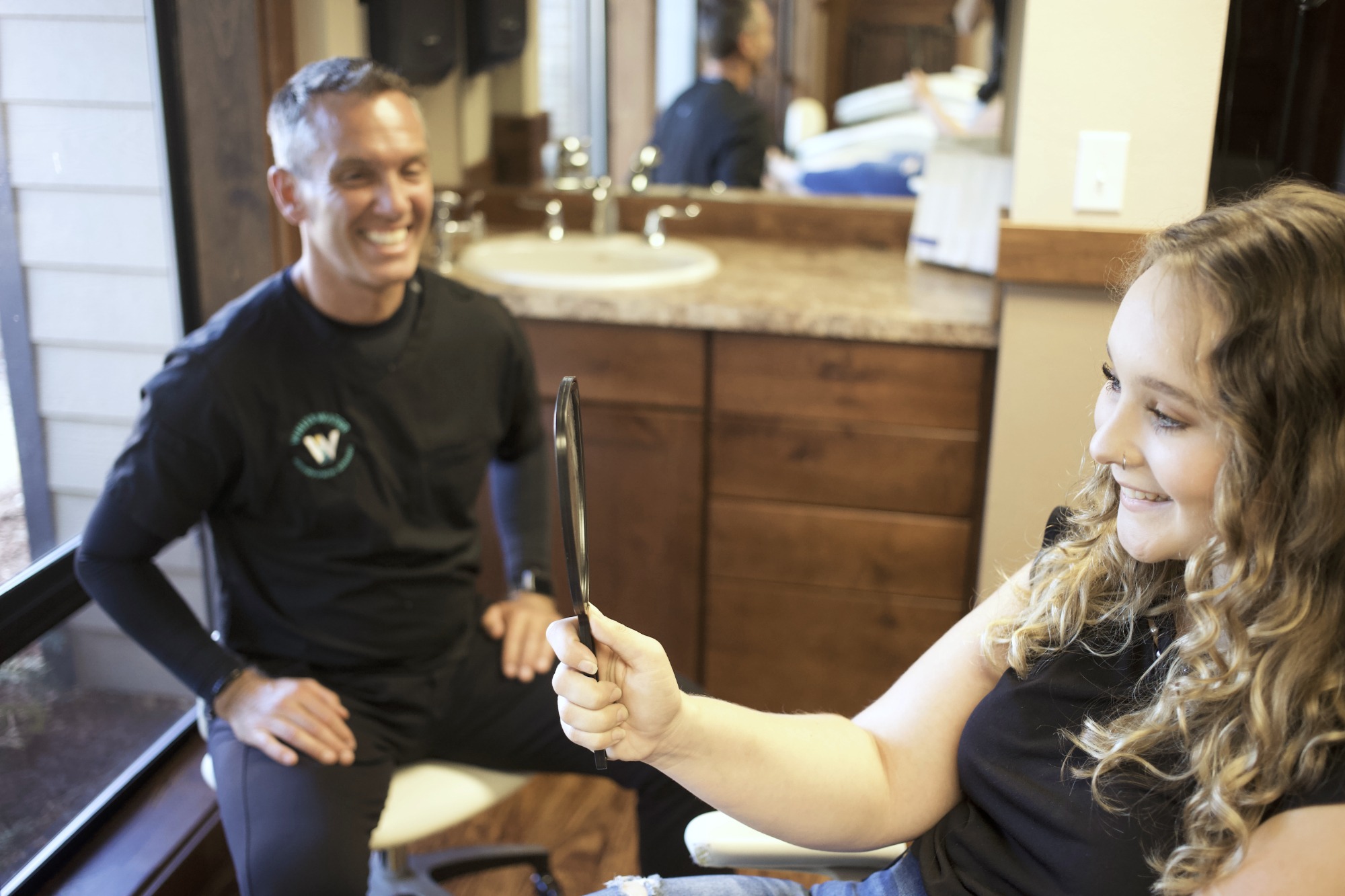 Flexible Payments
We offer flexible payment arrangements and insurance billing services.
After we've determined your insurance coverage and filed it for you, we'll sit down and come up with a monthly payment plan that fits your budget. You can also get a discount if you pay in full on the front end.
Convenient Office Locations
We have two convenient offices for you in Parkland and Yelm, WA. That gives you great orthodontic care only minutes from your home, work, or school. Call now for a free consult!
State-of-the-Art Techniques
Dr. Leavitt practices with modern orthodontic technology, including Invisalign®, the nearly invisible way to straighten teeth without braces.
Whitewater Orthodontic Studios is your location for modern orthodontic treatment in Parkland and Yelm. We offer aesthetic options like ceramic braces and Invisalign along with comfortable high-tech scanning.
Dr. Leavitt is committed to achieving both a great bite and a beautiful smile in the shortest time possible.